Past Events
In addition to this selection of events below, IFAL has hosted many workshops, speaker series, and outreach events through our grad student/postdoc group Science Says. We also co-sponsor a monthly public event in downtown Sacramento called Sac Science Distilled. Bright and engaging local scientists share research stories to inform, entertain, and spark scientific curiosity. 
Innovator Summit 2019
The theme of the 2019 Innovator Summit was "Transformation of the Food System". This event was hosted at UC Davis by the Innovation Institute for Food and Health, IFAL's sister organization. IFAL co-hosted the Summit, and organized sessions on "Communicating About Food". We were pleased that several board members were able to speak or attend.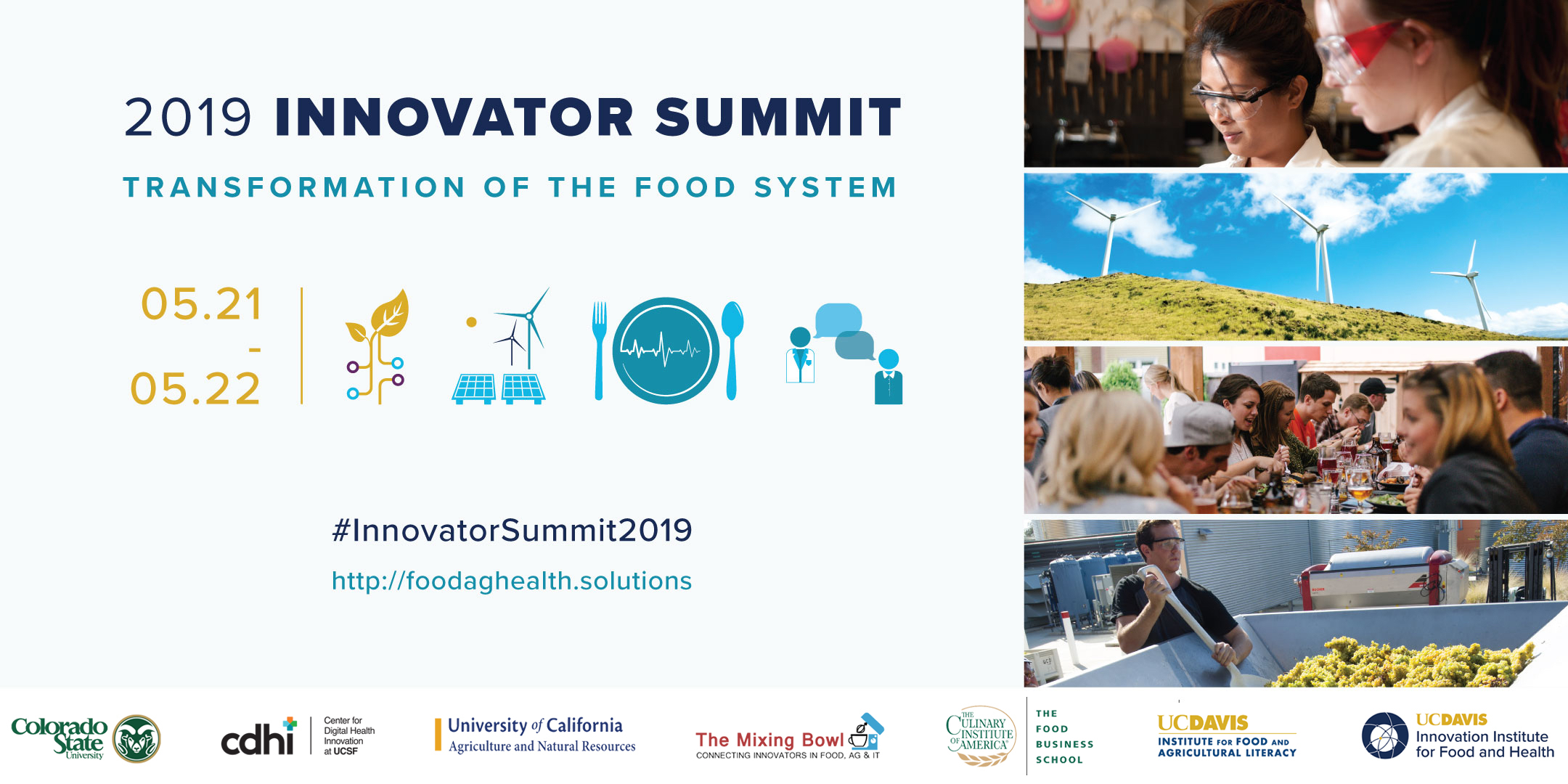 ---
Food and Agriculture: A Global Conversation

The Food and Agriculture: A Global Conversation Symposium took place on April 24, 2018 at the UC Davis Walter A. Buehler Alumni Center. The conference brought together leaders in academia, industry and the media to provide participants with scientific information about agriculture, nutrition and food security with the goal of sparking collaborations between attendees to enhance the public discourse on scientific issues. Co-sponsored by the UC Office of the President Global Food Initiative, the Innovation Institute for Food and Health, The Foundation for Food and Agriculture Research, the Cornell Alliance for Science, the College of Agricultural and Environmental Sciences Dean's Office Programmatic Initiative. You can find the program here. 
---
Sugar Science Roundtable
IFAL hosted this topical roundtable on January 26, 2018, which was attended by campus and community members (Davis, Sacramento, Roseville). The panel featured Dr. Laura Schmidt, Dr. Kimber Stanhope and Dr. Nancy Keim and was moderated by Science Says member Debbie Fetter. The discussion focused on the effects of sugar in the body, whether sugar is addictive (hint: the jury is still out), and how to reduce sugar consumption in our lives and communities. A flyer for this event can be found here.
---
Food Evolution Movie Screening
IFAL hosted an advanced screening of the documentary "Food Evolution" on May 2, 2017 in partnership with the Innovation Institute for Food and Health, the Seed Biotechnology Center, and the Plant Breeding Center. Food Evolution is directed by the Oscar Award nominated Scott Hamilton Kennedy. It is narrated by Neil deGrasse Tyson and includes a diverse array of scientists and farmers including UC Davis' Alison Van Eenennaam, Pamela Ronald, and Raoul Adamchak. The screening was followed by a panel discussion and audience Q&A featuring Director Scott Hamilton Kennedy, Producer Trace Sheehan, Dr. Alison Van Eenennaam, Prof. Pamela Ronald, and Raoul Adamchak and moderated by Dr. Christine Bruhn. You can find the program here. IFAL hosted an additional on-campus screening on March 7, 2018, again followed by a panel discussion and audience Q&A.
---
Farm to Table Academy
In October 2015, IFAL hosted a four weekend academy for the general public and campus community discussing current technologies that impact the global food system from farm to table. Topics included Improving Regional Food Systems and Community Nutrition, Developing Crops for a Sustainable Food Supply, Livestock and Sustainable Agricultural Practices, and Agricultural Innovations.
---
Food For Thought: Communicating Agricultural Science
IFAL's first symposium was held on June 3, 2015. It interactively discussed the question of the "future of food" and how we can meet the challenge of changing consumer preferences in affluent countries and the dramatic demand for more calories in the developing world—all while decreasing the global agricultural footprint? This event focused on sustainable agriculture through the lens of foods produced using a variety of genetic approaches and farming practices. Panelists addressed the complicated issues of nutrition and consumer acceptance. A taste test featuring a few of the food items discussed was available to attendees including Rainbow papaya and the newly approved Arctic® Apple. Participants included global scientists and educators, nationally known food and science journalists, community members and students and faculty from the university community. Yvette d'Entremont, aka "Science Babe", Pam Ronald, founding faculty director of IFAL, and Ted Nordhaus, Chairman of The Breakthrough Institute, gave keynote speeches. The agenda can be found here.